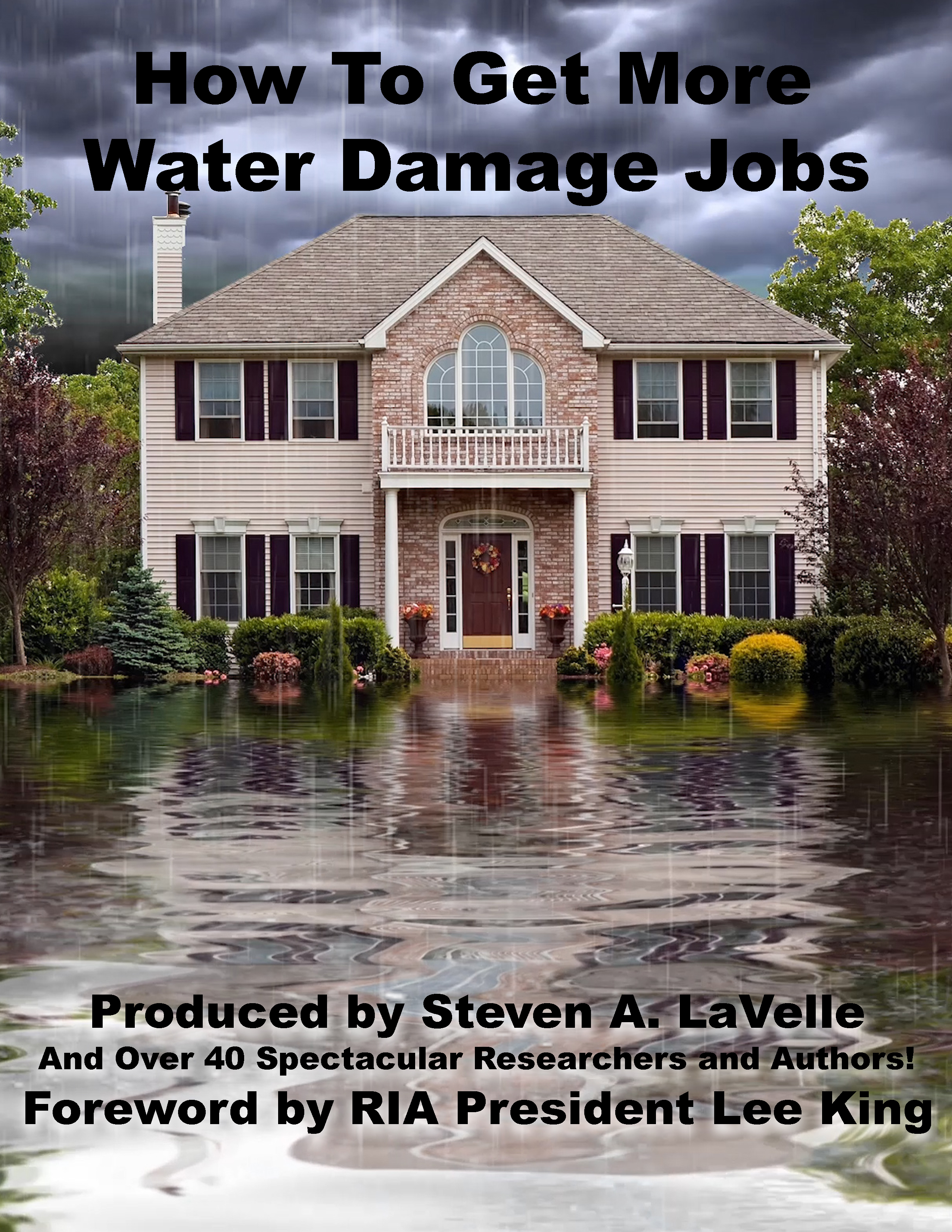 How To Get More Water Damage Jobs (ebook)
Product Details
There has never been a book like "How To Get More Water Damage Jobs."
Over 40 Consultants, Instructors and Wildly Successful Marketers tell their insider secrets for water damage job acquisition.
Just look at all you get!
• How to Get Insurance Work Without TPAs – Strategies, tactics, and techniques that actually work! (written by an adjuster) -- Page 22
• How to make an extra $500 to $1000 on most water damage jobs – legitimately, just by changing the things you put in your invoice. (No padding, no false charges, just real legitimate numbers) Page 25
• How to Get Plumber Water Damage Referrals – Free! Two of the Titans of Restoration collaborated to write a chapter that we think is worth more than the price of the book by itself! The title tells it all.
Page 233
• One author, who is also an insurance broker for restoration companies, says this about one of his strategies, "When everything works as designed, the restorer will be getting the emergency response call before the insurance agent does." And he shows you how, in his chapter starting on Page 199.
• Want to Make $1000 Per Hour? Use these Xactimate codes... To our embarrassment, we didn't believe it (at first). But the restoration professional who showed us is a Xactimate instructor himself and a certified adjuster (and full time restoration consultant). We checked with another Xactimate teacher to see if this one was for real and she wrote back, "It's real." He even tells you the five Xactimate codes you need – hands them to you as part of the chapter!!! Page 222
• If you do this right, you'll show up in three places on page one (OF GOOGLE)! Two different authors, who had never met, figured this out and separately tell you what to do on Page 73 and Page 151
• How to Get More Work than Ever Before – This author got 23 insurance companies referring jobs to him and increased his company's income by 50% each year for almost 10 years in a row – now he tells how he did it (and how you can too). Page 106
• How to Get More Water Damage Jobs – by one of the "Titans of Restoration." Recognized authority, highly respected. 10 years of unbridled success. Page 76
WHAT IF YOUR GOOGLE AD SHOWED UP
ABOVE ALL OTHER LISTINGS? #001
* This consultant asks, "What if your ad showed up above all the other listings when someone did a Google search, including the pay-per-click ads? And, what if Google added their trust badge to your company to guarantee consumers you are a reputable business in your area?" Page 112
* Did you know … there is a supplier who sells carpet, and other flooring materials at 50% below Xactimate pricing? Page 60
* Farmers Insurance used to have a referral program that gave jobs to one specific franchise. Then, one day, they shut the program down and the contractors had to scramble to find jobs. When this remarkable consultant showed up and turned everything around, one franchisee wrote, "…we have gone from 80% of our Farmer's claims coming to us through [Farmer's defunct program], to 85% of them coming directly from agent and adjuster referrals…And just in time." How does this expert do it? Take a look at Pages 208, 227, and 304.
* One company called this SEO maven in the middle of a workshop for restoration company owners, to ask him to stop sending them so many leads! They were overbooked! He has more than one chapter – find him, he is worth the effort!
And there are over 100 more, solid, workable, practical, time-tested techniques in the How To Get More Water Damage Jobs eBook.
Any one of which can easily be worth many times more to you than the purchase price!
Most, you may never have even heard of or seen before – but are now just a click away!
The Water Damage Jobs book is delivered into your email box in PDF form because it is chock full of useful links that will show you even more than is on the pages themselves
(links don't work on paper)! And you can read it on most of your mobile devices.
You Can't Be in the Top 10% If You Keep Doing
What the Bottom 90% Are Doing