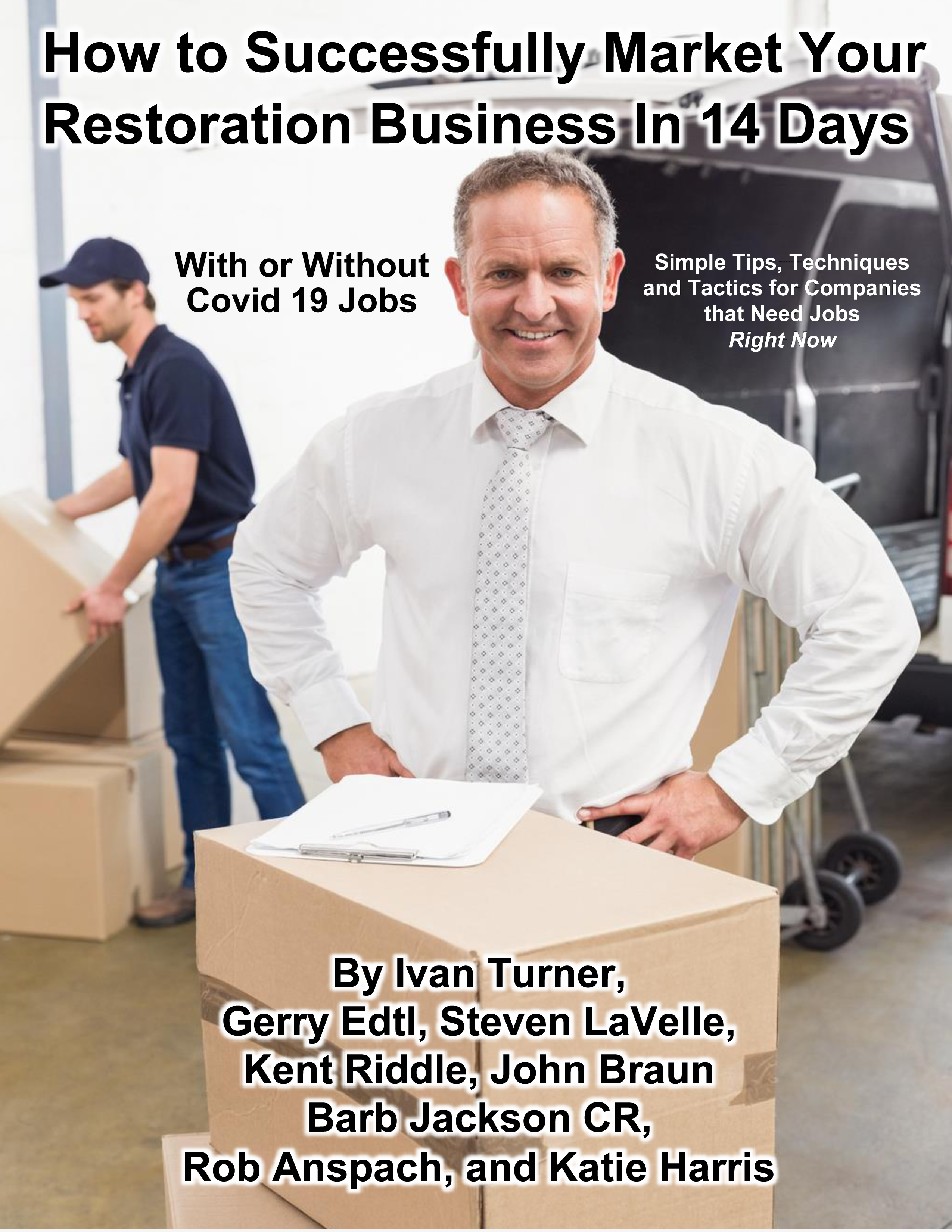 How to Get More Restoration Jobs in 14 Days... (ebook)
Product Details
How to Get More Restoration Jobs in 14 Days –
Whether You Want COVID-19 Jobs or Not!
Consultant/Trainer Ivan Turner says, "Fly me to any city in the U.S., drop me off at any restoration company and with these techniques I can have your staff selling and closing jobs in just 14 days – how do I know? I've been doing it for years. I just did it a few weeks ago with two rookie sales people who knew almost nothing about the industry… I flew to Louisiana and trained them for 7 days, then we hit the streets and made some of the easiest sales I ever had." Then he wrote two chapters telling step-by-step how to do it for yourself! Pages 15 and 110
Gerry Edtl tells us there is a secret stash of jobs that most companies overlook. You can get them, but you need to ignore the sneaky guys and say specific words to the right person at the right moment. Page 90
Katie Harris asked, "What if your ad showed up above all the other listings when someone did a Google search, including the pay-per-click ads?" Higher than pay-per-click ads? Higher than all other listings? At a fraction of the cost? Well, she showed us how to do it and it works! Page 73
Want to be on the first page of Google, but can't afford any pay-per-click at all? Gary Arndts just put a client on the first page of Google in 10 minutes (Google actually helped him do it)! He found a "back door" and he is using it as often as he likes. Another client took a week to get on the first page – but when he did, he showed up in 2 different markets! Page 66 and 94.
Kent Riddle did two things (one was he created rapport with adjusters in just 3 sentences) and created a job producing protocol the like of which he had never seen before…it works again and again. Page 69
You need referrals, but let's say you only have 14 days to get them -- you don't have the time to build up a referral base. So how do you feel about 1 minute referral techniques? Those are easy, but for a few more minutes effort, you can get a "referral machine" up and running – Check out Page 37 for a few extra ideas.
And there is more – a whole lot more—over 100 tips, techniques and money-making tactics!
BONUS – Both Ivan Turner and Kent Riddle include a free offer of 1 hour consultations (each) – their contact information is in the book!
This ebook is a PDF downloadable upon purchase