The promise of automated job data collection goes back many years, but it's finally happening, thanks to Bluetooth technology.
Some benefits of automated data collection are:
Time savings – no need to wait for the meter to acclimate.
Better accuracy – No transcription errors.
Readings happen even when you cannot make it to the job site – data is logged even when you are not there.
Job data imports directly into your drying software.
Most initial attempts to improve job monitoring were designed around the idea of a Wi-Fi based network having a cellular gateway to provide connectivity to the internet.  Wi-Fi is great for large amounts of data in a permanent setup but has shortcomings when used in water loss restoration.
You must purchase a cellular gateway to connect the devices.
You must pay for a monthly data plan on the gateway.
Each device must be individually registered into the network. 
The gateway is typically in a fixed position and not easily moved if devices are out of range.
Like many other industries, the restoration industry is starting to see significant introduction of Bluetooth enabled devices.  There are now Bluetooth enabled handheld meters, dehumidifiers, moisture content sensors, and more.  These devices store data internally and then pass it on to a handset or another Bluetooth enabled device.  Bluetooth technology is great for the smaller amounts of data and temporary applications common to restoration jobs, for example:
Data can be stored locally on your phone if you do not have cell service and then transmitted when service is re-established.
Your phone serves as the internet gateway.  Bluetooth devices automatically connect.
Your phone typically already has a data plan.  The amount of data transferred is small.
Devices do not need to be registered on any network.
You can easily move your phone if you need to connect to a device not in range.
Automated data collection gives you data integrity as the data is coming directly from the sensors.  Drying reports can be generated entirely from data collected through an app.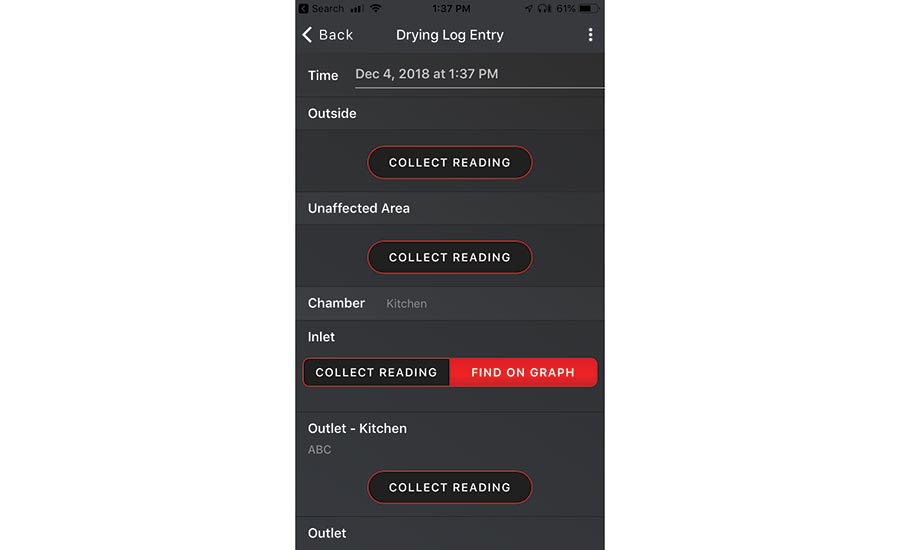 Remote Monitoring
A low-cost, previous generation smart phone can be used to transmit information from Bluetooth devices in real-time.  This allows remote monitoring, remote control of equipment, and notifications.  Remote control takes advantage of two-way communication and allows you to send commands remotely to the equipment on the jobsite.  Properly equipped devices can notify you if an air mover or other equipment has been turned off.  The hours the unit was on can be calculated, based on the actual runtime of the equipment.
Wi-Fi based systems always include remote monitoring because a router and/or gateway is needed to connect all the devices to the network.  Bluetooth based systems offer remote monitoring as an option.  You are never required to set up remote monitoring.  If remote monitoring is not needed or desired, you can connect directly to the devices with your phone when you arrive at the jobsite.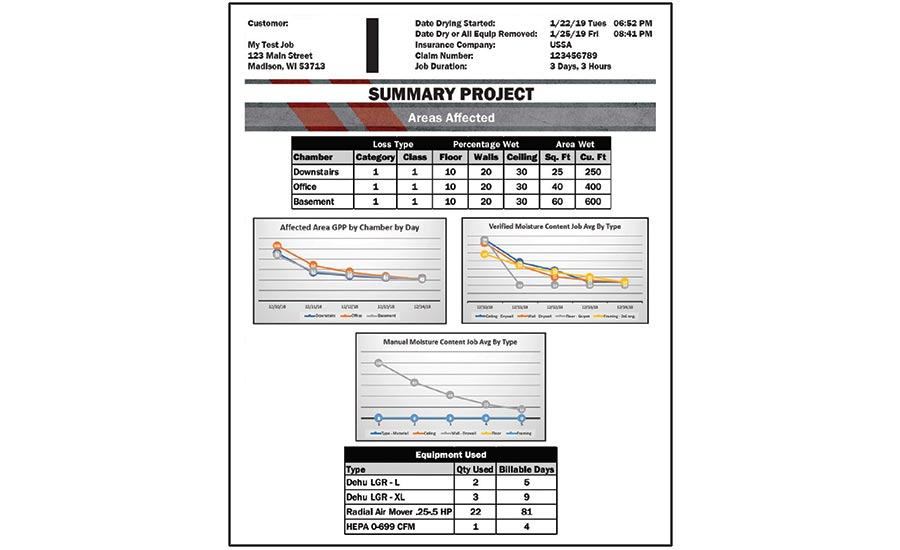 Some restoration benefits of remote monitoring:
Notification in real-time when a piece of equipment is turned off or loses power.
Notification if a drying chamber is altered (e.g. a door is left open).
The ability to rearrange job visits based on actual conditions.
Getting a heads-up to return to a job sooner if needed.
Equipment Tracking
Common equipment tracking systems offered to date have been based on RFID tags.  These tags work well but they come with high startup costs, monthly fees, and have a shorter range than competing technologies.  Wi-Fi is not an ideal technology for equipment tracking as it requires more power than the coin-cell type batteries used to power the tracking beacons can supply.  Again, Bluetooth has the answer:  BLE or Bluetooth low-energy is the perfect technology for battery powered locator beacons.   
Bluetooth beacons are relatively inexpensive and can be read by an app on your phone instead of a dedicated RFID reader.  Buying an RFID reader for every truck can get expensive.  Alternatively, using your phone to read Bluetooth tags (the phone you already own) is not expensive.  Some new restoration equipment comes equipped with Bluetooth tags included and have no monthly fee.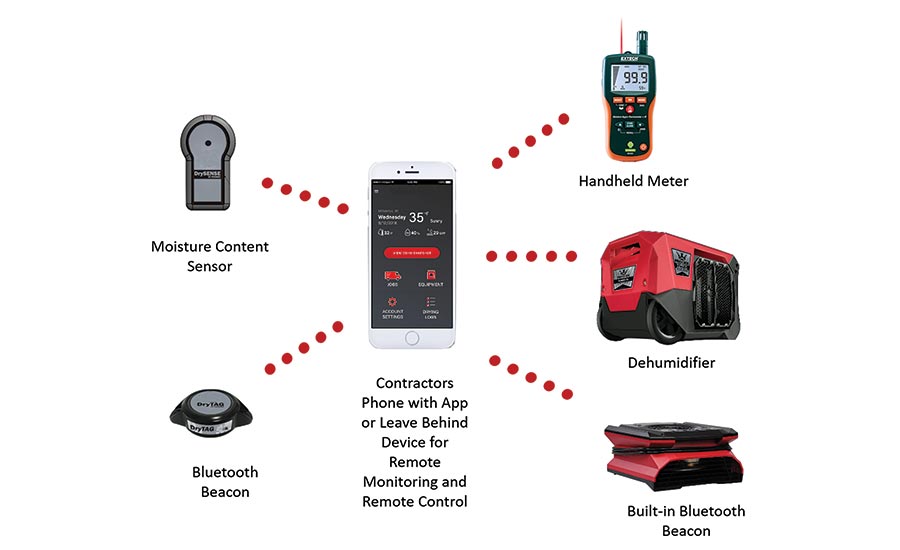 Benefits of equipment tracking:
Find all equipment in range, whether it is running or not.
See a map with the last known location of each piece of equipment.
Notification of any equipment not picked up from a completed job.
See equipment by signal strength (proximity to you) to speed job setup.
Types of Bluetooth data transmission methods
Advertisements – The Bluetooth device periodically sends out data packets which are received by a Bluetooth device within range and the data is read by a compatible app.  This type of data transmission does not require the devices to connect allowing many devices to be read at one time.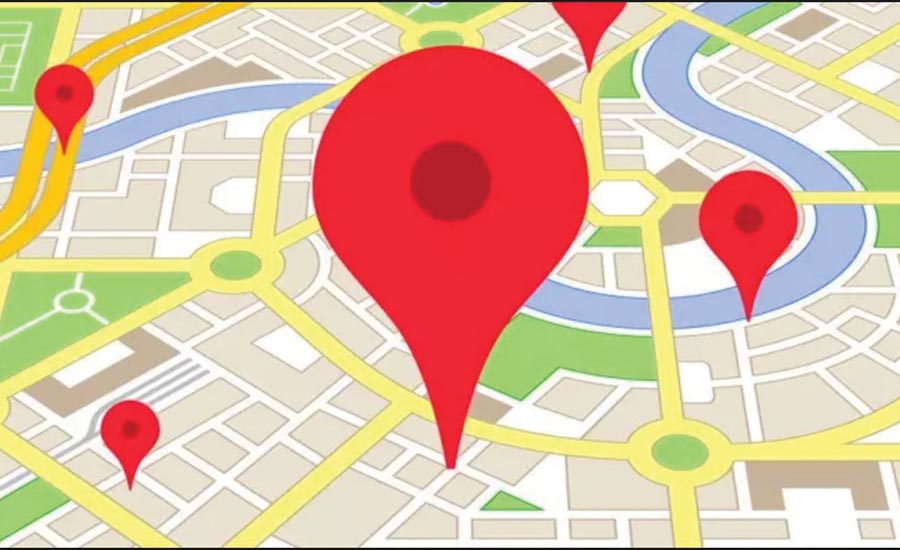 Two-way communication – This type of data transfer requires a connection between the Bluetooth devices and limits the number of devices the phone (or another Bluetooth device) can connect to at one time.  This allows a phone to remotely control another Bluetooth device because it allows the phone to push data to the device.