In the fall of 2003, San Diego County was devastated by a wildfire that was soon to become one of the state's largest fires on record. The fire was known as the Cedar Fire, which took the lives of 15 people and destroyed over 2,230 homes. Countless other homes were partially destroyed or heavily damaged by smoke, which displaced tens of thousands of residents. Many of those affected by the fire encountered a myriad of challenges. Some who lost everything were never able to return home and, to this day, all that's left are vacant lots. Many homeowners found themselves under-insured or ended up in lawsuits with their insurance companies. Some got taken advantage of by unscrupulous contractors, public adjusters, or mortgage companies, and for some the emotional and psychological stress of losing everything was just too much to handle.  
Then, almost four years to the day and soon after most of the families impacted by the Cedar Fire had rebuilt and moved back into their homes, another wildfire struck. On October 22, 2007, the Witch Creek Fire swept across San Diego County and by November 16, it had consumed over 1,350 homes and damaged thousands of others.
One of the homes destroyed in the Witch Creek Fire happened to belong to Dan and Denise, dear family friends of mine. They asked me if I could come out and help him through the recovery process. When I got there, the entire neighborhood looked like a moonscape and all that was left of Dan and Denise's home was six inches of ash and the remnants of what used to be their appliances.
I helped Dan and Denise work with their adjuster, sift through the ash to find Denise's wedding ring, create an inventory of lost personal property, estimate reconstruction costs, and hold their hands to the point where they were able to handle things on their own and begin the rebuilding process.
About a year and a half later, Dan and Denise invited my wife and I to their brand-new home, and as we drove up their street, I noticed that Dan's house was the only home rebuilt in the entire neighborhood. I asked Dan what was going on with his neighbors and he said, "Well… the neighbor on my left got into a fight with their insurance company, lost their home and moved away. And the neighbor on my right committed suicide."
When I heard this story, my heart broke and I thought to myself, if these people had someone in their life that could have helped them through this process, maybe their outcome could have been different.
Dan's story touched me so deeply that I felt like I needed to do something to help disaster survivors like Dan's neighbors navigate this process. I felt like first responders needed to have a comprehensive, yet easy-to-read book they could hand out to families free-of-charge that would give them the knowledge they need to make informed decisions as they navigate the long road ahead of them.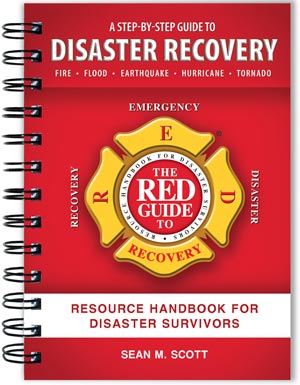 So, in 2008 necessity became the mother of invention and I embarked on a journey to write a disaster recovery road map called The Red Guide to Recovery – Resource Handbook for Disaster Survivors. Keep in mind, I had never written a book before and never cared too much about school, so I really didn't feel qualified to write a book about anything. However, I knew there was an unmet need and as a restoration contractor I understood what people would face and what type of information they needed. So, I finished The Red Guide to Recovery in 2009 and presented copies to our local fire chiefs. They liked it so much that they helped create a public-private partnership where the books could be funded on behalf of the community and fire departments by contractors, relief organizations, corporations or grants.
Since 2009, The Red Guide to Recovery has been adopted by relief organizations like the American Red Cross and the Salvation Army, as well as fire departments, emergency management agencies, fortune 500 businesses, restoration contractors and many others across the United States.
It isn't very often when life presents a situation where you have the opportunity or ability to really help people in a large-scale or profound way. I feel very blessed that I can give back to people in need and utilize the experiences I have gleaned from over 43 years in the construction and restoration industry.
My hope is that my story will inspire others in the restoration industry to share the resources I have created and look for other ways to help those who have lost their homes or been displaced.
Here are five tips on how restorers can give back or help their community, even if there isn't a job in it for them:
Renters often don't have insurance and are the hardest hit after a flood, fire or other disaster. When a restoration contractor is called out to a rental property by the property owner's or HOA's insurance, it is always nice to have a care package on the response vehicle that can be handed out to a family in need that may have just lost everything. Being able to hand out a teddy bear to a child who lost his or her most prized possessions goes a long way. Also, having blankets, flash lights, a few pairs of shoes, water bottles, disposable gloves, Tyvek suits, hand wipes, etc., will come in handy for tenants who will need to go through their damaged contents before they relocate.
If you are on a fire department's board-up list and get fire or flood losses from them, carve out a small percentage of your EMS or reconstruction proceeds and donate it back to the fire station that called you out. A lot of fire departments operate on less than they actually need and can't afford many of the latest lifesaving equipment or personal protective gear. Many fire departments in rural areas are volunteer-only with even less to work with and anything you donate could really bless these guys and gals! Ask your subcontractors to pitch in as well.
Keep a mindset of paying it forward and doing random acts of kindness on a regular basis. Volunteer to install smoke detectors, carbon monoxide detectors, or donate your time to do disaster preparedness lunch and learns at rest homes, skilled nursing facilities, churches, etc.
Sponsor a child or someone who has suffered severe burns. Children are especially impacted from being disfigured in a fire and need all the love, kindness and support they can get. Organizations like The Burn Institute have a lot of ways restoration companies can help.
In large-scale disaster events such as hurricanes, tornadoes or wildfires, be willing to set up non-self-promoting disaster recovery seminars where you can give people information to help them get back on their feet and prevent survivors from becoming victims.
If you have any questions or would like to learn how you can make a greater impact in your community, please feel free to contact me at [email protected], or call 858-349-2262.